We looked at a lot of old broads before we decided on Elsie. By the time we stopped driving through the junker lot at Jerry's Campers & Trailers and eyeing down every old trailer we saw in roadside shelter belts, we knew what we wanted.
Something bigger than 12 feet (two people and a 70lb. dog need some space) but smaller than 20 feet so we could pull it without a truck. No leaks. Negligible hail damage and a fairly good exterior. In-tact windows. A fixer upper, sure, but a trailer in need of a She's All That makeover, not a Nip/Tuck kind of thing.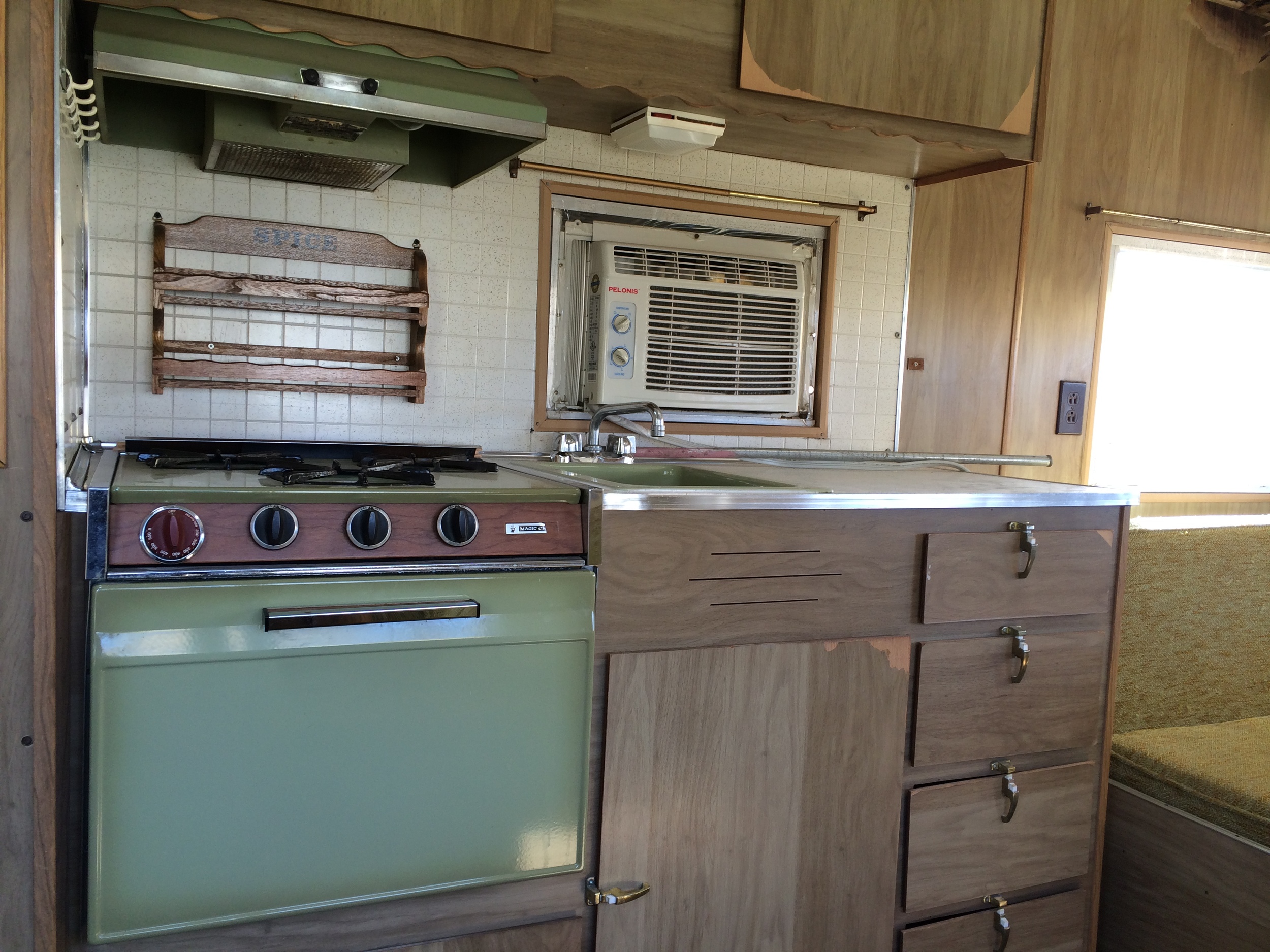 When I saw Elsie's Craigslist ad last August, I just kind of knew she was the one. The FAN layout in 1968 was real feng shui; the kitchen faced you as you walked in, which was opposite of most trailers we'd looked at. The closet, bathroom, and dining areas flanked the ends of the trailer giving us some good space in the middle to move around. And she was the right age. Trailers made in the 80s are plentiful (Coleman really honed the market), but they aren't really vintage camper trailers quite yet and it's hard to find much pre-1970s that isn't in total disrepair.
That, and Ray answered all of our questions.
After we towed it back to Broken Bow and gutted Elsie in September, we made a mental checklist of things that we wanted to keep and others that we wanted neuralyzed from our minds completely ala MIB style.
In the keep category: wall sconces, scalloped edging on the overhead cabinets, vintage green formica table, and the general layout of things would likely stay.
In the "wipe this from my memory" category: old car photos mounted to the cabinet doors, 80s sound system, hunter green velvet curtains, the extra bench seating opposite the kitchen, contact paper and high traffic carpet (ew).
In the midst of all that avocado green, faux wood, 80s décor, and way too f**king many spice racks, two things brought us solace: it would all soon be gone and Mary (Carson's mom) was making Texas sheet cake.